---
The Crimson Promenade
---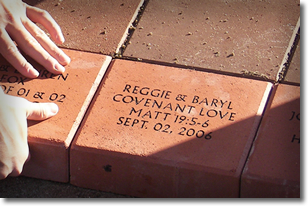 The Crimson Promenade, located between Woods Quad and B.B. Comer Hall, celebrates The University of Alabama's historic leadership role and recognizes service to the University by our alumni, students, faculty, staff and friends. Pavers may be purchased for $200.00 each. Proceeds beyond construction costs fund programs that support leadership and involvement initiatives for students.
Donors receive a commemorative certificate for each paver commissioned. Those honoring or remembering someone with their order may choose to give the certificates as recognition of their gift.
A Crimson Promenade brick is a great way to wish someone a happy birthday, anniversary or congratulations on graduation. Your paver may honor a friend, identify you as part of a group, recall times at the Capstone or define your connection to The University of Alabama in some other meaningful way.