The Premier Awards
---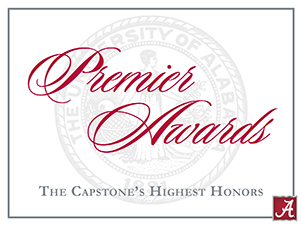 The University Awards Committee welcomes applications for The University of Alabama's six Premier Awards, the highest honors given at the Capstone.
Students who believe they are qualified are strongly encouraged to apply. Individuals may only apply for one of the Premier Awards.
Students, faculty/staff, and other campus partners are encouraged to nominate faculty and staff members for the three awards that are also awarded to non-student recipients, the Judy Bonner, Morris Lehman Mayer, and Algernon Sydney Sullivan Awards.
For more information on how to apply as a student or nominate a faculty/staff member, click here.
The application period opens on Sunday, October 1st, 2017. The deadline for applications is 11:59 PM Sunday, November 12th, 2017.
Please note, all portions of the application, including the letter of reference, are due by the deadline. Applicants should note that their reference cannot submit his/her letter of recommendation until after the application is submitted; applicants should submit their application with enough time for recommenders to submit their letter before the deadline.